I just wanted to share a review of  pretty great resource I recently discovered.  It's called Wholesale Designer Handbags by Jana Bariss. This is a very complete (and legitimate) database of wholesale suppliers of designer Handbags. And when I say legitimate, I mean we are not talking about knock-off bags, But the real deal.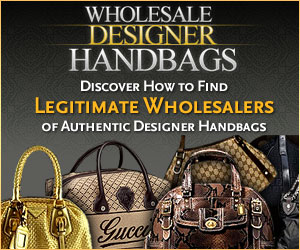 After thoroughly reviewing Jana's list, I would highly recommend it to anyone planning a retail business where designer handbags are the primary, or even just a secondary product line.
Besides the fact that this is a real list of real suppliers that are above board, I really love the way Jana has layed out the format.  She specifies the brand, the supplier's contact info, shipping and payment terms, return policy and phone number etc.
What really stood out to me was the fact she had a comment column with some great info, stuff like "Has a large inventory in stock; low minimums; Drop-Ships. " I can tell that she did her research thoroughly and used these contacts herself.
Another note – Jana separates out the vendors that drop ship vs. those that just do wholesale.  This can be really powerful if for example you want to start a boutique with just an online presence first (like an eBay store or an ecommerce website) and then build a brick and mortar business later.
Drop shipping allows you to test the market, see what sells, but without investing a lot of money, time, and energy upfront on a storefront presence.  What a great tool…!
Jana also breaks everything down between Europe and US, and I really love the designer labels you can find in her database, like:
Burberry, Chanel, Coach, Celine, Chloe, Dior, David Yurman, Ed Hardy, Fendi, Isabella Fiore, Kate Spade, JP Tod's, Juicy Couture, Louis Vuitton (USED), Marc Jacobs, Michale Kors, Mui Mui, Prada, Sky
I kinda wish I knew about this when I started our boutique ;)
One final note. There are a few  ebooks courses out there claiming to give out a similar resource to this, as a "free bonus" and I have looked into those lists.  Most are either not valid (because they deal only in knock-offs,) outdated, or not even "wholesale" lists at all, because the prices are at retail levels, not wholesale.
To be quite frank, so many of the "wholesale lists" being circulated on the web are really just rehashed versions of the same, outdated or inaccurate material. And if they are being made available "free", that is a sign the person offering it found it for free as well.
Jana's database is a well researched, well organized, current resource that you can use to find great merchandise at a price that will let you earn a profit – online or off. Something that powerful, and valuable, just isn't made available for "free".
I am convinced this is a great resource for those wanting to save time and start building a business.  I spent a lot of time researching on my own vendors and suppliers when I started, and I wish I had this database back then.
Talk about spending your valuable time the way you should be –  like running, managing, and promoting your business, instead of being bogged down trying to find wholesalersJ
Hope you like it!
=)